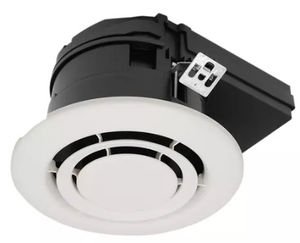 Panasonic FV-01VCN1 WhisperAir Repair™- Air Purification
FV-01VCN1
WhisperAir Repair's compact, lightweight one-piece design makes installation quick and easy in remodeling, retrofits or new construction. Install plates hold the unit firmly onto sheetrock or ceiling tiles with no clunky brackets needed. Whisper Air Repair can be used with new or existing wiring. Panasonic recommends installation be tied into a constant run circuit to ensure optimal performance.
WhisperAir Repair offers an energy efficient, self-contained and maintenance-free device with no filters to change, ever. No worries, no hassles - just purified healthy air 24 hours a day.
Product Features
Utilizes patented nanoe™ X charged water particle generation technology to purify contaminated air
Inhibits growth of allergens, and breaks down hazardous substances for improved occupant health*¹
Quietly deodorizes and removes unwanted smells for a fresher, cleaner indoor environment*¹
Maintenance free with no filters to change, no duct work required
*1 WhisperAir Repair's impact on odours, allergens, pollens and hazardous substances was based on testing in a 812ft³/23m³ room.
---
We Also Recommend
---