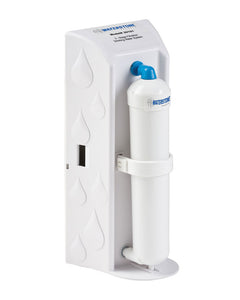 Waterstone 30101 Multi Stage Filtration System
30101
The Waterstone Multi-Stage Filtration system features a single cartridge 3-stage replaceable filter. The first stage is a 20 micron pre-filter, followed by the second stage 5-micron pre-filter, with a final stage GAC (Granular Activated Carbon) filter.
Product Features
1000 gallon capacity filtration system.
Single cartridge multi-stage filter. 1st stage filter – 20 microns, 2nd stage – 5 microns and 3rd stage filter – GAC.
Dimensions: 7" W x 6-1/4" D x 15-1/2" H.
Unit Weight: 4.75 lbs.
For municipal potable water use only
Intake water press. range: 40 psi to 100 psi max.
Intake water temp. range: 32F to 120F max.
Includes attachment tubing.
Made to work with AS-414 Safety Valve Leak Detector.
Manufacturer provided 1 year warranty.
Add a Waterstone Cold Only Filtration Faucet to complete the package (faucet not included).