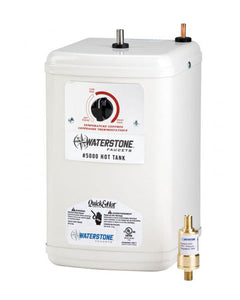 Waterstone 5000 Hot Water Tank
5000
Why wait for steaming, hot water? Get instant hot water from a Waterstone Hot Tank. Perfect for making hot coffee, tea, cooking or sink cleanup. Designed with a non-pressurized bladder system that works with any Waterstone Hot and Cold, or Hot Only Filtration faucets, the insulated 1/2 gallon stainless steel tank dispenses steaming hot water instantly. Get up to 60 cups and hour! The tank's water temperature can easily be adjusted from 140F to 190F (60C to 88C). Includes a pressure release valve. Hot Tank easily mounts to under sink cabinet. Carries a 2 year warranty. Add a Multi-Stage Filtration Unit and Safety Valve Leak Detector to make the Ultimate Under Sink System.
Product Features
Instant hot water on demand.
Perfect for hot coffee, tea, hot chocolate or soup.
Up to 60 cups per hour capacity.
Adjustable temperature 140F to 190F (60C to 88C).
Integrated vent, works with any Waterstone Hot Only or Hot and Cold filtration faucet.
Insulated 1/2 gal. stainless steel tank.
Resistant to reverse osmosis water.
Includes Pressure Regulator Valve (PRV).
Heating element – 1300 watts, 10.8 amps, 120 volts, 60 Hz.
Inlet water pressure, 35 psi min, to 60 psi max.
Minimum inlet volume (filter output), 1 gal / min.
Dimensions- 11-1/4"H x 6-3/4" W x 8-1/4" D.
2 year manufacturer warranty.
Add a Waterstone Hot and Cold or Hot Only Filtration Faucet to complete the package (faucet not included).