Posted by Daniel Edelman on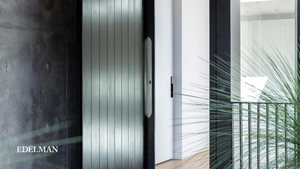 Are you ready to unlock the possibilities? Explore our showcase of custom-designed door furniture and architectural hardware, perfect for interior designers and homeowners alike. Designer Doorware makes it easier than ever to bring your vision to life.
Posted by Daniel Edelman on
When it comes to creating the perfect space for a client, interior designer Barrie Spang says everything is fair game. The Rocky River, OH, native doesn't shy away from bold colors or mixing finishes; in fact, Spang advocates, "There are no rules in design. The rules are made to be broken." Even as a young girl Spang knew she wanted to be an interior designer. "I told a relative I wanted to make people's houses prettier for a living," Spang said. "My dad then explained that this was actually a career I could pursue." Spang grew up in Rocky River and spent her...
Posted by Daniel Edelman on
Unlike much of the mass produced fare that floods the market today, California Faucets prides itself on made-to-order fittings. Get to know California Faucets in Edelman's new series, "Behind the Brand." Remember that Jim Carey movie where his character challenges himself to say "yes" to everything for an entire year? It was called Yes Man. If there's a company in the plumbing industry that shares an infinity with this slapstick comedy it's California Faucets, an eco-friendly custom faucets, drains and shower company based in the heart of Huntington Beach, CA. Not only does California Faucets describe their company culture by...
Posted by Daniel Edelman on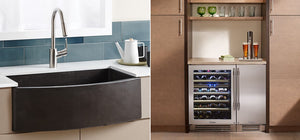 Regardless of whether you cheered for the Falcons or Patriots, Superbowl-ers can usually agree on a couple important game-day details. The single most important detail, in our opinion, is where you watch the big game (or, really, any game). And nothing sets the tone like an immaculately designed cave. Although rooms designed for the purpose of watching sports are typically called "man caves," we know a lot of women who are diehard sports fans. Which is why we're advocating for a name change. Cue: the wo/man cave. Woman approved. Man approved. Let's party. Here are our top six tips for designing the perfect wo/man...
Posted by Daniel Edelman on
Blue is one of this seasons hottest colors for interior designers. Here are some examples of how to incorporate this beautifully bold color into your home!     The pattern of this backsplash leading down to the floor is a great way to decorate a plain wall while adding some character to your bathroom.[/caption] Bedroom designed by Amber Lewis. Blue fabric covered headboard contrasts perfectly with a white comforter with silver sequins. Dark wood floor with a blue wall, and the window seat with a blue cushion and colorful pillows bring all different shades of blue into one beautiful space.[/caption]...
---