Posted by Daniel Edelman on
When it comes to creating the perfect space for a client, interior designer Barrie Spang says everything is fair game. The Rocky River, OH, native doesn't shy away from bold colors or mixing finishes; in fact, Spang advocates, "There are no rules in design. The rules are made to be broken." Even as a young girl Spang knew she wanted to be an interior designer. "I told a relative I wanted to make people's houses prettier for a living," Spang said. "My dad then explained that this was actually a career I could pursue." Spang grew up in Rocky River and spent her...
Posted by Daniel Edelman on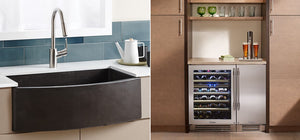 Regardless of whether you cheered for the Falcons or Patriots, Superbowl-ers can usually agree on a couple important game-day details. The single most important detail, in our opinion, is where you watch the big game (or, really, any game). And nothing sets the tone like an immaculately designed cave. Although rooms designed for the purpose of watching sports are typically called "man caves," we know a lot of women who are diehard sports fans. Which is why we're advocating for a name change. Cue: the wo/man cave. Woman approved. Man approved. Let's party. Here are our top six tips for designing the perfect wo/man...
Posted by Daniel Edelman on
The kitchen is considered the heart of the home, so it's natural for us to want ours to be as great as possible. Here are some quick, budget friendly updates improve the value and feel of your home.   Paint:  A new paint color is one of the most budget-friendly ways to have a large impact on your kitchen. Try experimenting with a bold pattern.[/caption]Hardware:  Refresh your cabinet hardware for an instantly noticeable update.[/caption]   Fabric:  Window treatments and rugs are an easy way to add a layer of visual interest, texture and pattern in today's most popular colors and patterns.[/caption]Open...
Posted by Daniel Edelman on
Memorial Day is approaching quickly and the EDELMAN team wants to help you prepare for your family get-together! In addition to the vast array of plumbing and hardware options we offer, EDELMAN also carries several brands of high-end kitchen appliances…including (you guessed it) grills! We spoke with Bradley Theis, a veteran in the appliance industry, for an overview of his top grill picks and their distinguishing features. DCS by Fisher & Paykel: DCS offers 30", 36" and 48" grills. All grills feature ceramic radiant technology under the burners, providing an evenly heated surface for perfect searing every time. Additionally, DCS...
Posted by Daniel Edelman on
As we gear up for the 2014 holiday season, we know it can be challenging to find the perfect gift for the ones you love. Don't worry though--we've got plenty of ideas: 1. Furnishings from Waterworks; 2. Dacor WineStation; 3. Door Knockers from Rocky Mountain Hardware; 4. 10" Round RainMachine Showerhead from Jaclo; 5. Coffee System from Wolf; 6. Lighted TV Mirror by Electric Mirror; 7. Towel warming rack by Vogue UK; 8. Beverage Dispenser by True Residential; 9. Brushed nickel decor from Native Trails
---