Guide to Outdoor Entertaining
Posted by Daniel Edelman on
Enjoy summer to the fullest with the perfect outdoor cooking and entertaining space. Armed with the right appliances and delicious recipes, you will quickly become the envy of all your family and friends. Check out Edelman's entertaining essentials!
Grill
Impress your guests by purchasing a grill that includes a smoker box, rotisserie and a sear zone. Your summertime menu will have endless options that will last you well into fall.
Burner Module
Gas burners are perfect for sautéing, stir-frying, and boiling water as you prepare a delicious side dish without ever having to go inside your home.
Sink & Faucet
Make prep work and clean-up a breeze when you add a stainless steel sink and faucet.
Refrigerator
Keep your food and condiments close and summertime libations cold.
Single and Triple Drawers
These stainless steel drawers are built to last. Plus, they are ideal for storing dishes and cooking utensils.
Warming Drawer
Keep your plates and food warm. Or, if you're poolside or in the hot tub, keep your towels warm!
Ice Maker
Make up to 50 pounds of crystal clear ice per day. Memorable entertaining is all about the details.
Don't forget about your guests!
Don't forget to consider seating arrangements. Adding a bar that faces the chef will allow the grill master to be included in conversation and make the food the center of attention.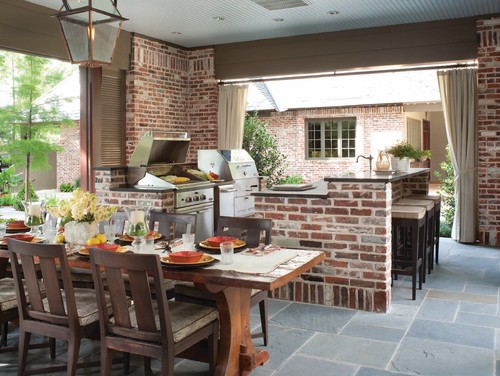 For the Person Who Has Everything
Do you want to build the ultimate outdoor kitchen and entertaining space? Here is a list of some of our favorite products.
Pizza Oven
Delight your guests by serving gourmet pizza from your own wood-fired pizza oven. As seen on HGTV's "Yard Crashers" and "Top 10 Amazing Kitchens", Earthstone pizza ovens instantly transform your outdoor kitchen or patio into an impressive Italian restaurant.
[caption id="attachment_626" align="alignleft" width="300"]
Earthstone Pizza Oven[/caption]
Kegerator
Bring your favorite bar home and invest in a
kegerator
! A keg of beer will stay fresh for up to two months, saving you time and money.
[caption id="attachment_623" align="alignleft" width="300"]
DCS Kegerator[/caption]
Heater
Enjoy your outdoor space long after the sun sets with this stylish space heater (also includes colored lights and speakers).
[caption id="attachment_624" align="alignleft" width="225"]
Grandhall Totum Heater[/caption]
For more outdoor space inspiration check out our Pinterest board!
---
Share this post
---
---
---
0 comment