Posted by Daniel Edelman on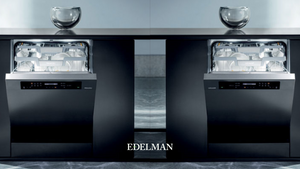 Are you considering a kitchen remodel project? If so, then you should strongly consider adding two dishwashers to your design. Having two dishwashers can be incredibly convenient and helpful for big families, those who like to entertain, and people who don't want to have another dish in their sink ever again. 
Posted by Daniel Edelman on
Our professional sales staff are not only experts in their fields, they are also extremely passionate about the work they do. One important aspect of Edelman's culture is to stay abreast of the latest design trends for kitchens, bathrooms, windows, doors, hardware and more. From industry shows, like The Kitchen & Bath Industry Show (KBIS), to trips overseas to learn more about our vendors firsthand, Edelman staff is always on on the lookout for the most innovative and exciting product releases. To get a sense of what is making waves in the industry, we asked around our showrooms to find out...
Tags:

2018 trends, Arc, Bathroom, bathroom remodel, bathtub, Blanco Empressa, brizo, Brizo Litze, Crosswater, Crosswater USA, dornbracht, Furniture Guild, home remodel, home trends, kbis, kitchen, kitchen remodel, Kolbe Windows, Loewen, The Gallery, The Gallery Workstation, The Kitchen & Bath Industry, Thermador, toto, Toto floatation bath, Toto floatation tub, Toto USA
Posted by Daniel Edelman on
When it comes to creating the perfect space for a client, interior designer Barrie Spang says everything is fair game. The Rocky River, OH, native doesn't shy away from bold colors or mixing finishes; in fact, Spang advocates, "There are no rules in design. The rules are made to be broken." Even as a young girl Spang knew she wanted to be an interior designer. "I told a relative I wanted to make people's houses prettier for a living," Spang said. "My dad then explained that this was actually a career I could pursue." Spang grew up in Rocky River and spent her...
Posted by Daniel Edelman on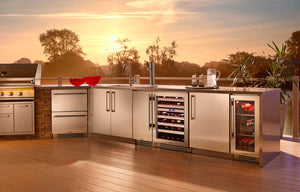 Although it often feels like summer will never fully arrive in the Midwest, the warm air eventually prevails and our patio furniture is sure to make its annual debut. If there's one thing we know for sure, it's that Clevelanders know the importance of patience. We only entertain consistently beautiful weather for about four to five months per year, but aren't those months—June, July, August, September and sometimes October—spectacular? Throughout the winter months, we bundle up and brave the cold air blowing off lake Erie with grace (most of the time), because we know that our summers are some of the best in America. Now that summer...
Posted by Daniel Edelman on
Unlike much of the mass produced fare that floods the market today, California Faucets prides itself on made-to-order fittings. Get to know California Faucets in Edelman's new series, "Behind the Brand." Remember that Jim Carey movie where his character challenges himself to say "yes" to everything for an entire year? It was called Yes Man. If there's a company in the plumbing industry that shares an infinity with this slapstick comedy it's California Faucets, an eco-friendly custom faucets, drains and shower company based in the heart of Huntington Beach, CA. Not only does California Faucets describe their company culture by...
---