Posted by Daniel Edelman on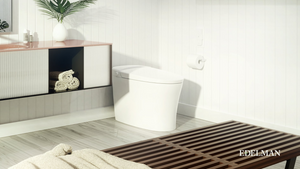 When it comes to luxury combined with efficiency, few products match up to the 
Crosswater Bathroom Ressa X1 Spa Toilet
. From its sleek Scandinavian design to its generous donation program toward environmental causes, this is one toilet that has it all. 
Posted by Daniel Edelman on
Our professional sales staff are not only experts in their fields, they are also extremely passionate about the work they do. One important aspect of Edelman's culture is to stay abreast of the latest design trends for kitchens, bathrooms, windows, doors, hardware and more. From industry shows, like The Kitchen & Bath Industry Show (KBIS), to trips overseas to learn more about our vendors firsthand, Edelman staff is always on on the lookout for the most innovative and exciting product releases. To get a sense of what is making waves in the industry, we asked around our showrooms to find out...
Tags:

2018 trends, Arc, Bathroom, bathroom remodel, bathtub, Blanco Empressa, brizo, Brizo Litze, Crosswater, Crosswater USA, dornbracht, Furniture Guild, home remodel, home trends, kbis, kitchen, kitchen remodel, Kolbe Windows, Loewen, The Gallery, The Gallery Workstation, The Kitchen & Bath Industry, Thermador, toto, Toto floatation bath, Toto floatation tub, Toto USA
Posted by Daniel Edelman on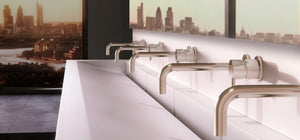 Crosswater London's founder, David Hance, is one of the most influential—and interesting—CEOs in the plumbing industry. In 1998, Hance began to build his 100 million dollar company using his cellphone and the "boot" of his car (British English for "trunk"). To this day, Crosswater's most valuable differentiator for success is Hance's promise of same-day or next-day delivery within the United Kingdom. We caught up with Hance during his most recent trip to Shanghai, China, and he shared with us a few moments from his humble beginnings, as well as his product plans for the near future. Apparently, Hance didn't always...